According to the apparently critical Famitsū magazine, only 28 games have gotten a perfect score of 40/40 (10/10 from four different reviewers). How many of these have you played?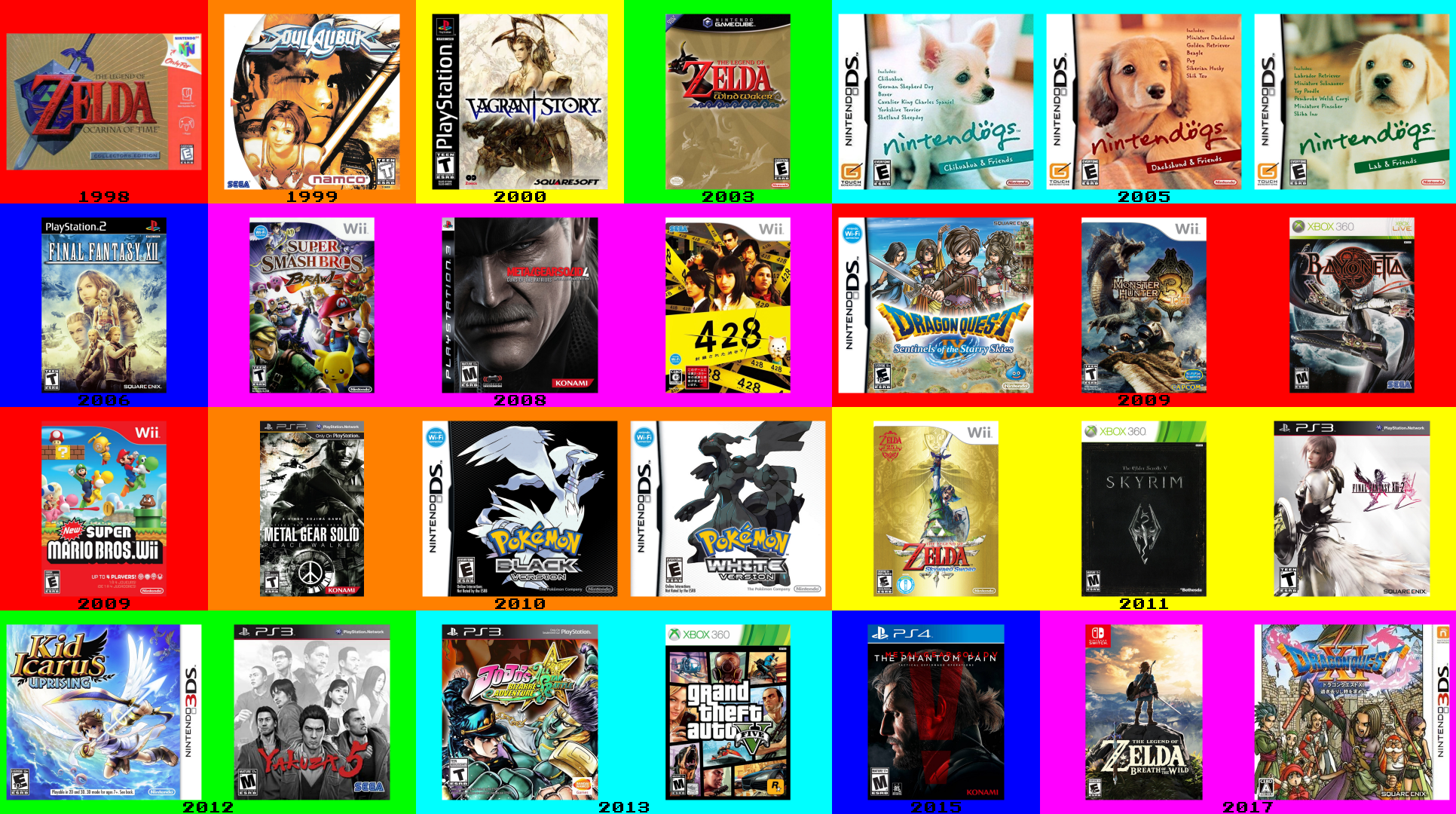 (Click for full size.)
This image shows up briefly in
my recent YouTube video about the 15 best map sets
, but I thought more use could be made out of that very brief shot of this image. Discuss!
Ripped from Wikipedia, the games are:
The Legend of Zelda: Ocarina of Time (1998, Nintendo, for Nintendo 64)
Soulcalibur (1999, Namco, for Dreamcast)
Vagrant Story (2000, Square Co., for PlayStation)
The Legend of Zelda: The Wind Waker (2003, Nintendo, for Nintendo GameCube)
Nintendogs (2005, Nintendo, for Nintendo DS)
Final Fantasy XII (2006, Square Enix, for PlayStation 2)
Super Smash Bros. Brawl (2008, Nintendo, for Wii)
Metal Gear Solid 4: Guns of the Patriots (2008, Konami, for PlayStation 3)
428: Fūsa Sareta Shibuya de (2008, Sega, for Wii)
Dragon Quest IX (2009, Square Enix, for Nintendo DS)
Monster Hunter Tri (2009, Capcom, for Wii)
Bayonetta (2009, Sega, PlatinumGames, for Xbox 360)
New Super Mario Bros. Wii (2009, Nintendo, for Wii)
Metal Gear Solid: Peace Walker (2010, Konami, for PlayStation Portable)
Pokémon Black and White (2010, Nintendo, for Nintendo DS)
The Legend of Zelda: Skyward Sword (2011, Nintendo, for Wii)
The Elder Scrolls V: Skyrim (2011, Bethesda Softworks, for Xbox 360 and PlayStation 3)
Final Fantasy XIII-2 (2011, Square Enix, for Xbox 360 and PlayStation 3)
Kid Icarus: Uprising (2012, Nintendo, for Nintendo 3DS)
Yakuza 5 (2012, Sega, for PlayStation 3)
JoJo's Bizarre Adventure: All Star Battle (2013, Namco-Bandai, for PlayStation 3)
Grand Theft Auto V (2013, Rockstar Games, for Xbox 360 and PlayStation 3)
Metal Gear Solid V: The Phantom Pain (2015, Konami, for Xbox 360, PlayStation 3, PlayStation 4, Xbox One)
The Legend of Zelda: Breath of the Wild (2017, Nintendo, for Wii U, Nintendo Switch)
Dragon Quest XI (2017, Square Enix, for Playstation 4, Nintendo 3DS)