I just had to give Zumba Fitness Rush for the Kinect a try to see how it compares to the real thing. After all, this game is promoted on the Zumba official website (as is Zumba Fitness 2 for the Wii). I figure that as a person also involved in the fitness industry, I'd give Zumba Fitness Rush a try so that I can give my opinions for any potential clients who may ask me for fitness advice regarding the use of this game.
For those who have never tried Zumba before and feel the intimidation of jumping into a group fitness class, this game gives a rather nice feel of doing Zumba without the factor of a large group of people surrounding you. Also, you do have the choice of hosting your own Zumba party with a very small group or simply doing Zumba on your own until you become proficient at it to try out a Zumba class. What's nice about Zumba Fitness Rush is that your instructors are not your generic looking Zumba instructors. Some of the well-renowned Zumba instructors of the world have lend their image and choreography to the game itself.
This game gives the feel of an instructional, without being an instructional. Let's face it, some people want to practice until they can get things right. That's one thing you cannot get out of a Zumba class. Once the song is over, you can't keep practicing that routine. You are likely on to the next song and busy keeping up with the instructor. The game allows for one to replay a routine as many times as they like. Unlike an instructional, the song is not played in parts while the instructor takes a moment to teach a specific part of the routine. This is a selling point for those who could care less for the technical details of an instructional and would prefer to jump right into things as a way to practice.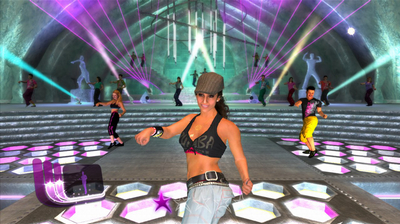 Zumba Fitness Rush - the latest in fitness video games, a growing trend thanks to motion control. Avoiding having to smell other people's sweat is a plus.
With regards to the game play itself, a lot of the tracks and routines are used in many Zumba classes. Keep in mind though, that several of these routines are "standard" in the industry, since the majority of the instructors have the same CDs and DVDs to learn their routines. Despite that, a Zumba instructor is at liberty to create an entirely different choreography for the same song. If you happen to have one of these instructors, you'd still be trying to keep up with the instructor instead of confidently knowing the routine. Even so, one can essentially learn the entire routine just by playing this game. What's also a great feature about this game is that one gets awarded for the amount of energy that one puts into their movement. This feature works well to aid one in developing not only skills to play this game, but skills transferable to the actual classes.
The mode of Zumba featured in this game is your basic Zumba. This is the type of class found in most places offering Zumba instruction. However, there are other forms of Zumba that are just as popular, such as Aqua Zumba (done in water) and Zumba Toning (where one uses a Zumba Toning Sticks with the routine to help build strength and tone). With the features of current gaming technology, I can see Zumba Toning being developed as a game if there is a demand for it.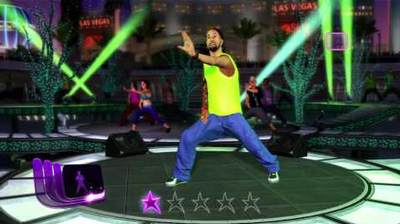 If you stick with it, you can gain confidence and real Zumba skills that you can use in an actual class.
So, if anyone asks for my opinion about the use of this game for fitness, my response is that it does offer an alternative for those who want to try this out, but is too shy about wanting to jump into an actual class. This game also makes it a fun way to jump into learning a routine without all the technical details of an instructional. It can be a way to learn a routine, but keep in mind that it might not match a routine used by an instructor. Finally, this game is limited to the mode of basic Zumba, but that's likely the Zumba that one will get introduced to. It is foreseeable that the other specialty Zumba will be developed as a game; but there is also the likelihood that once someone tries out Zumba Fitness Rush that they will develop the confidence to jump into a live Zumba class to try it for themselves and also seek out the other forms of Zumba.